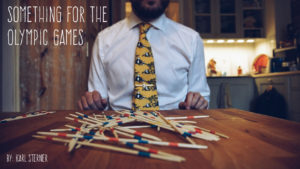 Synopsis; "Something for the Olympic Games"
Portraits a lonely man with a strange obsession. To illustrate the greatness of the game Mikado, which he calls a sport, he has hired a film team to shoot a video complementing his application to the International Olympic Committee (IOC) to accept Mikado for the Olympic Summer Games. But how convincing is his appeal? His loneliness is tangible and soon his second love in life is revealed to be none but Angela Merkel.
"Something for the Olympic Games" was written and directed by me (Karl Sterner), filmed by Fredrik Lotto and starred by Viktor Jonsson. It had its premiere at the Västerås Film Festival in October 2018. 
The film is part of a larger project, where eight short films with the same theme and mockumentary approach will be merged into either a web series or a feature film with the Swedish title Vi vill också vara med, English title; "We also want to play".