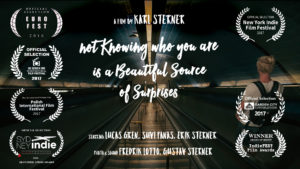 Directed and Written by me, Karl Sterner Isaksson, it stars Lucas Gren, Suvi Panas and Erik Sterner among many other talented actors. Photographer was Fredrik Lotto and on sound was Gustav Sterner.
Enjoy the trailer!
You can now see the full film at the recently launched independent streaming site Illambra for only 2.99€.
Synopsis: This is a story about a short but important passage in a young man's life. Johan's girlfriend, Annelie, has dumped him one month before their wedding. His best friend, Markus, has therefore bought him an interrail ticket and sent him off alone on a journey full of challenges. Both challenges appearing from the nature of travelling but also some small missions that Markus texts and forces him to do.
Johan's journey starts in Sweden and heads through Denmark, Germany, Holland, Belgium, France, Spain and ends up in Lisbon, Portugal. Not really in the mood for traveling he wanders around feeling lost and miserable but along the way and through his encounters with other lost souls he starts to see things from another perspective and a possible new romance with the Russian girl, Nadia, shows him that life together with Annelie wasn't that great after all. Later on when Annelie has another sudden change of heart and starts looking for Johan he no longer knows what he wants; whether to return to her or just go with the flow and maybe try something together with Nadia.
News about the film from 2016 to 2019 have been covered both in the news section and on our Facebook page
And here are links to media coverage and film reviews etc: